Kick deeply ingrained habits in 7 simple steps with Melbourne's leading Hypnotherapists
---
---
Change is hard when your subconscious is holding you back
---
Have you tried again and again, only to fail and fall back into old habits?  You're not alone.  80% of our behaviour is triggered by our subconscious mind.  It works like a computer that calls up behaviours based on what's worked for us in the past.  And like outdated software, old subconscious programs can get in the way and stop us from getting what we want.
We call this self-sabotage.
Helen Mitas, Founder of Hypnofit
Clinical Hypnotherapy in Melbourne
Clinical Hypnotherapy is a treatment process that uses hypnosis to bring about a trance-like state during which the conscious mind is rested and the subconscious can be accessed and negative thought processes replaced with positive, affirmative messages.
However, rather than being limited to hypnosis alone, the best elements of behavioural and cognitive psychology as well as the latest physiological research regarding how our minds work are also integrated into clinical hypnotherapy. Melbourne now has its very own hypnotherapy clinic – Hypnofit – where thousands of patients have seen a variety of conditions successfully treated.
What clinical hypnotherapy is not
Our preconceptions of hypnosis likely come from the movies and most people would associate it with a dangling watch and a patient being forced into doing something they would never normally do. However, the truth is that hypnosis is nothing new to any of us.
We all experience daydreaming on a near daily basis, and most of us will know the feeling of being completely engrossed in a good book or piece of music – all of these experiences are much the same as what you can expect during your hypnotherapy sessions, so really, there's nothing to be afraid of! So, despite hypnotherapy requiring hypnosis, the process allows the patient to remain in control at all times.
Hypnofit's leading consultants cannot suggest anything to you that you don't want to do and, despite being in a trance-like state, you are awake throughout the process and can hear everything that is said.
What clinical hypnotherapy is
Hypnofit uses hypnotherapy to remove negative blocks on a subconscious level that have brought about problems such as stress, anxiety, insomnia, depression, and even bad habits such as over-eating, nail-biting and smoking.
Through the process of addressing the root cause of the problem the focus, therefore, shits to changing how you feel and relate to these issues, and in tackling the issue this way their leading consultants can help you achieve a more positive outlook and reach your goals.
Does clinical hypnotherapy actually work?
Traditional medication can often work but when neglected it is more than likely that the issue reoccurs. As such it serves only as a Band-Aid and leaves the root cause unattended to and ready to manifest itself in a negative way once again. Similarly psychoanalysis can bring positive change, however, the results speak for themselves with hypnotherapy treatment having an estimated 93% success rate after only 6 sessions, as opposed to 38% success rate for psychoanalysis after approximately 600 sessions.
Regardless of what your condition or issue is Hypnofit can help you overcome it. The approach is tailored to each individual who walks through their doors, however, the method is the same. Those who struggle with weight loss, anxiety, depression, inability to stop smoking all have one thing in common, emotional triggers buried deep in their subconscious that results in them repeating their negative behaviours over and over again.
The solution is the same in all cases, first, unearth the reason at a subconscious level and then re-program the mind with empowering messages and beliefs delivered via powerful hypnotic suggestions.
So what are you waiting for? A free thirty-minute strategy session is available to you right now, all you have to do is pick up the phone or drop Hypnofit a line and let the best clinical hypnotherapy Melbourne has to offer help you unlock your best self.
Hypnofit is Melbourne's best hypnotherapy clinic helping patients with hypnosis. Our clinic is able to help patients who are looking to quit smoking, looking for weight loss, dealing with depression and struggling with anxiety. If you are interested in becoming a Hypnofit practictioner we would love to help you with that too. Browse our website to see our success stories or call us to learn what we can do for you.
At Hypnofit, we've helped thousands of people make lasting change
And we're sure we can help you too.
---
---
* Individual Results May Vary.
Are you struggling with anxiety and depression, losing weight or quitting smoking? Helen Mitas, a clinical hypnotherapist and the founder of Hypnofit, has a wealth of experience in using hypnotherapy Melbourne with clients to help people resolve some of their deepest and most persistent issues. She is passionate about helping people to attain their goals and making the changes that they wish for in life.
Imagine being able to choose healthy food options without thinking about it and without the cravings that cause you to pile on the junk food. At Hypnofit, we offer The Virtual Gastric Band, which is a life-altering Melbourne hypnotherapy that will allow you to stop packing on the pounds and achieve the target weight that you've always dreamed of. With this procedure only being available in an approved Melbourne hypnotherapy clinic, like Hypnofit, you can experience the program that has already been successful for thousands of people.
Quitting smoking is something that many people struggle with. More people are turning to clinical hypnotherapy Melbourne in order to find a solution that is designed to turn them into permanent non-smokers. With the outcome of smoking always being severe health problems or death, it is in your best interest to start making the change to stop smoking now.
Anxiety and Depression
Anxiety and depression are some areas that respond best hypnotherapist in Melbourne because of the fact that the hypnotherapy is focused on helping clients to get to the root causes of their issues rather than simply dealing with end results of anxiety and depression.
When clients look for the best hypnotherapist Melbourne, Mitas is one of the few hypnotherapists in the area who has a proven track record of long term success. In addition, given the fact that anxiety and depression often robs people of their long term happiness, it is an issue that must be dealt with swiftly and with care and compassion.
Hypnotherapy also has the added benefit of being able to permanently alter your mindset about life so that you won't want to return to old destructive thinking that got you to where you were in the first place. At Hypnofit, we are focused on delivering long-term success for our clients so that they can enjoy a better quality of life and more time focused on the things that they want to achieve from life, rather than negative things.
No matter what your concerns are, every hypnotherapy plan at Hypnofit involves tailoring the program to deal with your specific issues. With a unique program built to address your needs, you can set a timeline for achieving your goals and ensure that they are specifically what you want to achieve.
Contact Us to Schedule a Free Consultation.
You can contact us on 1300 797 622 or send an email to info@hypnofit.com.au to arrange a complimentary 30 minute consultation. We'll discuss your challenges and develop a hypnosis Melbourne program to help you achieve your future goals.
Introducing our therapists
Helen Mitas
Helen Mitas is a leading Clinical Hypnotherapist, a published author of the book 'Mindset Dominance', international speaker, Hypnotherapy business mentor and respected leader in her field around the globe.
As the Founder of Hypnofit, Helen Mitas has helped thousands of people overcome depression, anxiety and self sabotaging behaviours through her renowned and ground-breaking Hypnofit 'Take Control' Hypnosis Programs.
Helen is a woman on a mission to increase awareness globally of the power of Hypnotherapy to help people live the life they deserve safely & naturally without unnecessary medication.
Christine Ford
Christine is a leading Hypnotherapist Specialist helping people by combining her extensive knowledge of holistic healing and lifestyle guidance to those who had come to think they were beyond help. Having explored her own journey to health and wellbeing, Christine knows it takes commitment and a desire to change – supported by calm, nurturing and expert guidance – to bring long-lasting change.
Christine has completed a Diploma of Professional Counselling, Diploma Ego State Therapy, Certificate Hypnosis & Power Hypnosis and is an advocate for natural healing methods.
Monika Polemicos
Monika has always had a passion for empowering people to live their best life. For over 15 years Monika has worked as a counsellor and personal advocate to those who were experiencing a lack of self esteem, homelessness, poor mental health, experiencing domestic & family violence and justice issues.
Initially completing a degree in Psychology, Monika has added Wellness Coaching and Clinical Hypnotherapy to her tool kit to promote health and wellbeing with her clients and of course help them lose weight when other options have failed.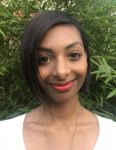 Yalini Nirmalarajah
Yalini is passionate about empowering people to take back control of their lives and will work with you to get to the source of the issue so that you can create the change you desire and let your true-self shine.  She has a natural ease with people and creates a warm and nurturing environment for you to open up, knowing that you are safe and supported.  Yalini will help you to release fears and emotions that hold you back, empowering you with knowledge and support you with her coaching skills so that you can become a master of your own destiny.
Yalini has a degree in psychology, a Master Practitioner of Hypnotherapy and Neuro Linguistic Programming and is also a qualified quantum consciousness facilitator.
Does hypnotherapy work?
Listen to Helen's interview with RRR radio in Melbourne about the kinds of issues that hypnotherapy can help with and how the process works.
---
How can we help?
We have extensive experience in helping clients with weight loss, anxiety, depression, smoking, addictions, performance anxiety and a host of other challenges.  Give us a call for a confidential chat.
---
---
Claim your FREE 30 minute strategy session with our specialist and transform your life today
---